I love hot pots, especially during the cold winter nights. It's a perfect sit down, comfortable and chillax meal you can ever imagine!
I honestly prefer hot pots at home, but I got to say that YX does them well! I actually haven't been to any other hotpot places in Sydney so I can't really say for other places. My first experience with this one was in Eastwood and so, this is my second. I prefer the atmosphere in Eastwood because it takes its oriental aura next level!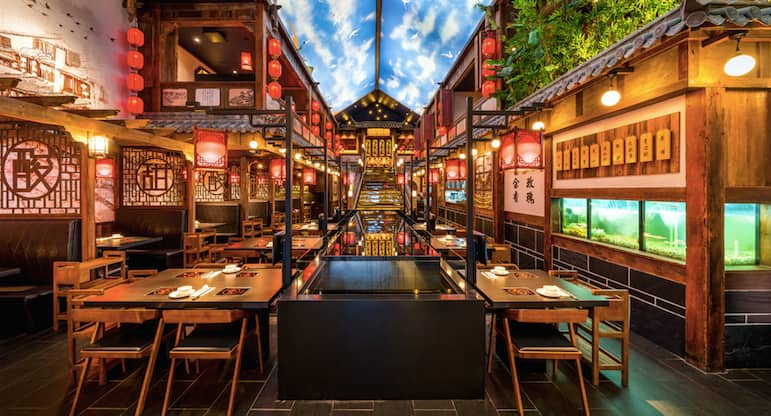 Isn't it so calming and authentic? I love the wooden set up and how it has lanterns! Love a thoughtful and well-placed decor!
Haymarket's franchise is not too bad but there's no lanterns haha. It seems dingy on the outside but inside is quite clean and modern. It's located on the first floor so you can either take two flights of stairs or an elevator to go right up.
We ordered quite a number of various dishes between the two of us including beef, pork, an assortment of mushrooms, handmade meatballs, fish, thick potato noodles, tofu, etc.
At first we didn't think it was too much but then I thought…damn were we too ambitious?
Surprisingly we did VERY well and only had one or two leftover.
The thick potato noodles were surprisingly good! It's something I would order again but then be cautious of because it is starchy and filled with carbs (which makes you full). But I love the texture and it goes well with any type of soup.
One thing I wouldn't order again is the handmade meat balls (pictured above between our hotpots). Even when 'cooked' it still seemed raw and I wasn't a huge fan of its texture. Took a lot of dipping sauce to salvage this dish for me.
Besides the dishes, the main this you have to order is your HOTPOT! You can choose to have only one flavour or two! As you can see below I got two varieties and I don't regret my decision!
Besides coming to a hotpot place for this experience, you should also try out their sauce station and have fun mixing some of the spices and condiments around. I don't even remembered how I made my sauce but I used so many ingredients and the outcome was magnificent!
Coming here on a Saturday night without reservation was honestly plain luck! I was just glad we didn't have to wait and got seated immediately unlike other places. The service was professional, quick and efficient. They would always come round to replenish the soup and replace our plates.
I think we spent around 2 hours here and the total amount we spent between the two of us for all these foods and drinks was around $160. Money well spent 🙂